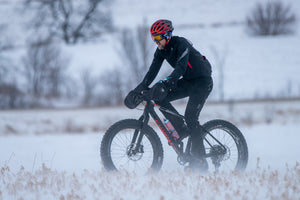 As Slick As Ice: SCC Tech Conquers the Triple D Endurance Race
When trying to describe SCC Tech to someone for the first time we like to keep it simple. Sometimes we're met with skepticism or a cynical "all chain lubes are the same." We're happy to go into the science of polarity, lubricity, and viscosity, or explain how the polarity of our patented formula adheres to metal like a magnet. We can demonstrate how your old lube is trapping dirt within the solution and grinding down your chain and cassette like sandpaper while SCC Tech pushes dirt outward and to the surface where it can be easily wiped away. But it's easier to tell someone, "give it a try. Use it for three rides. You'll never use anything else."  We can preach all day about our products. After all, we've put in countless hours developing and testing them to perform in the most demanding conditions, however, sometimes it's better to hear it from someone else. This week we sat down with Michael Maney. He's an avid cyclist and SCC Slick user who recently rode his fat bike to victory in the freezing cold and snowy Triple D Endurance Race, a 70mi fat bike race that starts and ends in Dubuque, IA. Bundle up and check out Michael's story below. 
Thanks for joining us today Michael, we like to bill SCC Tech as an all conditions drivetrain treatment so we're interested to hear your tale. Tell us a little about yourself first. 
I'm 34 years old, live in Cedar Falls, Iowa, and originally hail from Waterford, WI. I am a husband to my beautiful wife Jacqueline, have a 4-year old daughter Josephine, and my wife is due with our second child in March!. I'm a senior mechanical engineer at John Deere Power Systems in Waterloo, IA. 
And as far as riding goes, what do you race? Where do you like to ride? It must take a bit of training to race 70 miles in the snow. 
I typically do about 650 hours per year on the bike, and primarily race marathon MTB events that are approximately 4 hours or 50 miles long, though I mix in some Cat 1 XC races, gravel races and some fat bike racing during the long, cold winters here in the Midwest for some fun and good training. My favorite "local" places to ride are the technical singletrack trails up in Decorah, IA and the fast and flowy Sugar Bottom Recreation area trails in North Liberty, IA. My family does travel a lot for MTB destination races and riding and we are regulars at races like Dakota Five-O in Spearfish SD, USAC Marathon MTB Nationals, Steamboat Stinger in Steamboat Springs, CO, and we love Moab, UT so much that was where my wife and I decided to get married. Our amazingly supportive local bike shop is Sugar Bottom Bikes in North Liberty, IA.
Tell us a little bit about the race you just won.
The race I recently competed in is called the Triple D Endurance Race, which is a 70mi fat bike race that starts and ends in Dubuque, IA, and goes on NO MATTER THE WEATHER. The name comes from the primary towns the race reaches, which are Dubuque, Dyersville, and Durango, IA. The race serves as a fundraiser for the local MTB organization called TMBR  or, Tri-state Mountain Bike Riders, and organization that is building a lot of exciting and FUN new trails. I have had some good success at DDD in the past, winning the event in 2016 and 2017, but haven't been able to make it back the last two years. The course had some new, at least to me, sections that promised to change things up and add some more entertainment. We got even more than we bargained for with blizzard conditions including falling snow, temperatures in the single digits, wind gusts over 50 miles per hour causing windchills around -20 to -30 F, sugary snow conditions with very little traction, and a crunchy ice layer on top that was too thin to carry our weight. After about 9 and 1/2 hours, over 7,500 calories and only one high speed downhill bike ejection, I rolled in for the win as the only finisher of the full-length 70 mile Triple D. Despite the tough conditions it truly was a great time and definitely a heck of a workout! 
Amazing! Yeah, I'm not sure we could have gritted it out for that one. That sounds incredibly brutal. What equipment were you running? 
For bike and equipment, I ran a Specialized Fatboy with HED Big Deal 85mm wide carbon wheels, 45Nrth Flowbeist 26x4.6" front tire at 4 psi, Specialized Ground Control 26x4.6" rear tire at 5 psi, SRAM XX1 Eagle drivetrain with 34T chainring treated with SCC Slick, 45Nrth Cobrafist pogies to keep my hands warm and have a good place to stash food for easy access, two insulated bottles filled with HOT water in a futile attempt to keep them from freezing, and about 8,000 calories of Honey Stinger waffles, energy chews, and bars, which I thought was overkill but as it turned out I needed all of it!
Wow, that's quite a setup. It's hard to imagine what 8,000 calories worth of waffles looks like. That must have been sticky. Speaking of sticky, what were you using on your chain prior to SCC Tech?
Prior to SCC I was using a couple different chain lubes that frustrated me for different reasons. I used Squirt but was frustrated at how often it had to be re-applied- it just didn't last long, and didn't keep things very clean across a wide range of conditions. I also used T9 Boeshield for a bit, but drivetrain cleanliness with that product was not good. I learned about SCC Slick from one of the co-founders while staying at a campground in Steamboat Springs for the Steamboat Stinger. He had samples of SCC and said that it was a new lubricant that hadn't hit the market yet but it was going to be a total game changer because it has the goldilocks blend of extremely long life and pristine drivetrain cleanliness. Of course I was skeptical at first, since every lubricant manufacturer out there will tell you that their product is the best. But with the frustrations I had with what I was currently using, I figured I had nothing to lose by giving it a try.
And you took it home and forgot about it for a while?
Nope! I tried SCC for the Steamboat Stinger the very next day, and I was truly blown away by the performance. It seemed like I could actually feel a reduction in drag on the drivetrain when pedaling, and spinning the cranks backwards confirmed what I was feeling. The chain initially shed a lot of the gunk that had built up from the other lubricant, which I wiped off for the first few rides until the chain cleaned up to a sheen it had never had since new. And as I would find out in the subsequent rides over the next days and weeks, the endurance of the product is second-to-none.
What were the conditions like? 
Conditions at Steamboat were super hot and dry, with dusty trails. A few months later winter came and I got to try the other end of the spectrum conditions-wise, with a great deal of cold and wet, sloppy snow, ice and rain. Previously, this seasonal transition is where I would switch lubricants from a dry to wet lube. Despite seeing how well SCC Tech performed in the hot and dry, I could not believe how well SCC continued to perform when things turned cold and sloppy. The drivetrain cleanliness is maintained as well or better than the hot and dry conditions, and the product continues to last incredibly long between re-applications. However, the biggest thing I notice using it in the cold is how much less drivetrain drag there is compared to oil and waxed-based lubricants. The synthetic components in SCC just seem to lubricate so much better with less change in viscosity and drag than anything else I have used. After seeing how SCC performs over such a wide range of conditions, I have not ever even considered going back to any other chain lube on any of our bikes. As a mechanical engineer by trade, and someone who is very particular about things, I have not seen anything else that even comes close to minimizing the tradeoffs and maximizing the performance across all conditions the way SCC Slick does. 
 We're so glad it's been working well for you across the board. What would you say to someone who's considering SCC Slick a try for the first time?
Try it, learn how to apply. It's very simple, but slightly different than other lubes.  After that, just sit back and watch the way it transforms your expectations about how a bicycle lubricant can and should work.
Thanks Michael for the kind words and support. We love to hear stories about our products out in the field and you have truly but ours to the test. Best of luck this season and we'll catch up with you again soon. Here's to warmer races ahead! 
---