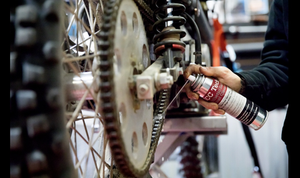 Formulating the Future, One Angry Frijole at a Time
SCC TECH exists to create and deliver products that don't just enhance your riding experience, but also protect your equipment and deliver the quality of product and long-term value that other companies have traded for short term gains. To that end, a motorcycle chain variant of our bicycle chain lube has been in testing for the past year. In our most grueling test to date, a team from Biltwell Inc. chose a chain lubricant and cleaner from SCC TECH to maintain and lubricate the chain of the customized Harley Sportster on which they completed the NORA Baja 1000. Throughout 1300 total miles of the worst imaginable riding conditions, dozens of spare parts, and numerous spills, the 'Angry Frijole' used only 1 chain — and SCC SLICK protected it the entire way.
We look forward to bringing the aerosol cleaner to market in 2019. Meantime, check out the bad ass short film from Biltwell Inc embedded above. We make a cameo at 9:17. A big congrats to Bill Bryant and the Biltwell team for finishing the race on such unique bike. Both as a company and fellow adventurers, you are an inspiration to us at SCC TECH.
---