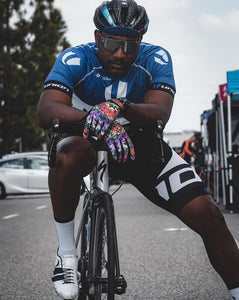 Meet Garnett "Crit Whit" Whitmire: Active military, active racer.
Garnett "Crit Whit" Whitmire has been using SCC Slick for just over a year and a half. As an active sailor in the Navy, it was SCC Tech's navy blue color that initially caught his eye, however, it was the presentation, instruction and science behind the product that piqued his interest. "I love structure and truly appreciated the step by step instructions of rotating the crank fifteen times, letting the product sit on chain for five minutes and I appreciated how silent the chain was following the initial wipe down and the following wipe downs." We've had a hard time catching up with Crit Whit as he's usually busy with his Naval duties or shredding asphalt at the local races, however, these last few weekends have been anything but ordinary. 
SCC Tech: Thanks for joining us this week Garnett, we know you were an early adopter and passionate SCC Slick user. First, we hope you and your family are staying safe and healthy. It's a crazy time. Any words of wisdom or positivity you'd like to share before we talk drivetrains? 
Garnet: As a community of people, let's band together, encourage one another, support diversity and understanding across the borders of ethnicity, gender, and culture. Looking down is training and pushing one's self for betterment but also remember to look up, which is therapy and enjoy the hard work and the beauty that's all around us. Let's live a life that positively impacts communities and seeks to reshape lives.
SCC Tech: So true, times like these really put things into focus. We are all humans. We are all looking to survive and thrive but some us use the bicycle as a means to accomplish this. COVID-19 has impacted everyone recently, how has it changed your training?
Garnett: The way I've taken lite of this COVID-19 pandemic has been one of mind over matter. I take it seriously, ride solo, and remain socially distant. I understand that we will make it through this, if we abide by the instructions we're given. I'm totally stoked to finally have a Smart Trainer (Elite Direto X) and can participate and fully enjoy Zwift and all that it has to offer. Some racers/riders are taking this time off, but I'm taking this time to apply force, because I want to keep growing and getting fitter because I'm a late bloomer to the sport, so when outdoors racing picks back up, I can be better than I was pre-COVID. Being home all day is not the greatest, but I deal with it relaxing, Zwifting, Neflixing and chilling.
SCC Tech: You mentioned you were a late 'late bloomer' to the sport. When did you get into cycling? 
Garnett: I've been riding since 2009/10, starting in Maryland. I'm military, so I transferred around a little bit. I rode there from 2009/10 to the end of 2011 then went to Mississippi and rode for a few months but the roads and culture weren't pleasant for cycling.  In 2017 I moved to California and the rest is present history. I started racing in March of 2018 at Tour de Murrieta, a two day Omnium Race. Day one is a 22k Criterium, and Day two is a 64k Road Race. 
SCC Tech: That's a Southern California classic, we've got some fond memories of racing there. Congrats on getting hooked by the sport, hopefully you were warned that cycling can be addictive. In the last decade you've probably tried quite a few drivetrain products.  What was your 'ah-ha' moment with SCC Slick?
Garnett: It honestly was probably after I rode 600 miles and realized I need to lube my chain again.  The buttery smoothness was phenomenal. My typical training schedule is +240k per week. My typical race schedule was maybe bi-weekly competitions during the season and I'd always take joy in applying SCC SLICK on the chain at the beginning of race day. 
SCC Tech: That's amazing, we tell riders that they can get over 400 miles per application but most people don't believe it. Six hundred miles is a lot of road to cover. No one wants to stop and lube their chain during an epic adventure. Speaking of adventures, where's your favorite place to ride?
Garnett: My favorite place to ride is "new territories," which is just symbolic of anywhere new and different from my normal weekly riding locations, but my favorite ride was the Victorville Bicycle Tour with my son. It was our first Fondo together. We don't always have the money to indulge in a new bike or new kit, but I find the adventure and freshness of new roads and new people does the trick. Don't get me wrong, I love new bike day, new kit day, etc. but, riding in a new territory is beautiful. 
SCC Tech: How would you describe SCC Slick to someone who's never tried it before?
Garnett: The best way I'd explain SCC SLICK to a friend is a lube that is simply silent, cool, and clean. Let them try it and allow the product to do the talking. Cycling is it for me, with no additional hobbies to indulge in. I do like sketching/doodling and watching food shows along with design shows, such as Forge by the Fire, or HGTV, and some old 90's television shows. I've always desired to be an architect, but being an active duty member of the Navy makes that reality difficult. I've taken a pleasure in graphic design, but more or less in product or industrial design, due to my structured mindset. 
Thanks so much for joining us today Garnett, it was an honor to speak with you and we appreciate your service to the country, dedication to cycling, and positivity on and off the bike. You're truly an inspiration and we look forward to see you out there at the races once things return to normal. For those that want to follow along with  Garnett "Crit Whit" Whitmire you can find him on the following social media platforms:
YouTube:
https://www.youtube.com/user/GWHITMIRE3
Instagram:
https://instagram.com/crit.whit
Facebook:
https://m.facebook.com/critwhit/
Strava:
https://www.strava.com/athletes/25655299
---